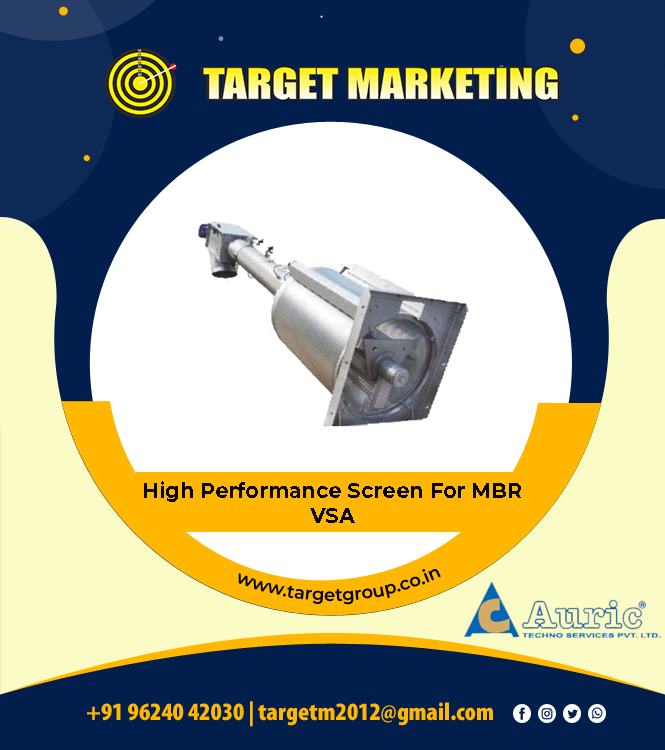 High Performance Screen For MBR
Description
VSA is a rotary drum screen with punched whole screen elements specifically developed for MBR applications. Designed to handle large flows to suit channel installations. Preferred by MBR manufacturers across several countries.

Salient Features:

• The VSA screen washes, conveys and dewaters screening all in one unit.
• Available in -channel or in -tank applications.
• VSA screening systems have three separate washing functions.
• Spray nozzles on the outside of the screen basket produce an overlapping spray pattern.
• Cleaning brushes on the exterior of the screen keeps solids contained within the screening basket.
• Durable brush is attached to the spiral at the auger trough.
• Large robust, self-lubricating bronze bushing.
• Seperate drives for the rotating screen basket and screw conveyor for MBR version.
• Hinged and latched compaction zone access with safety interlock switch.
• Screenings completely enclosed within the transport tube and dewatering zone.
• Proprietory triple face seaI.
• Screening drum available in perforated plate or mesh screen media.
• Removable Sliding Aluminium covers.
• Available in: 1) Wedge Wire - 0.5mm upto 10mm 2) Perforated plate- lmm upto 6mm 3) Mesh Filter0.5mm upto 1mm
• Capacities upto 2000 m3/hr per unit.
• Available in galvanised steel or stain less steel.