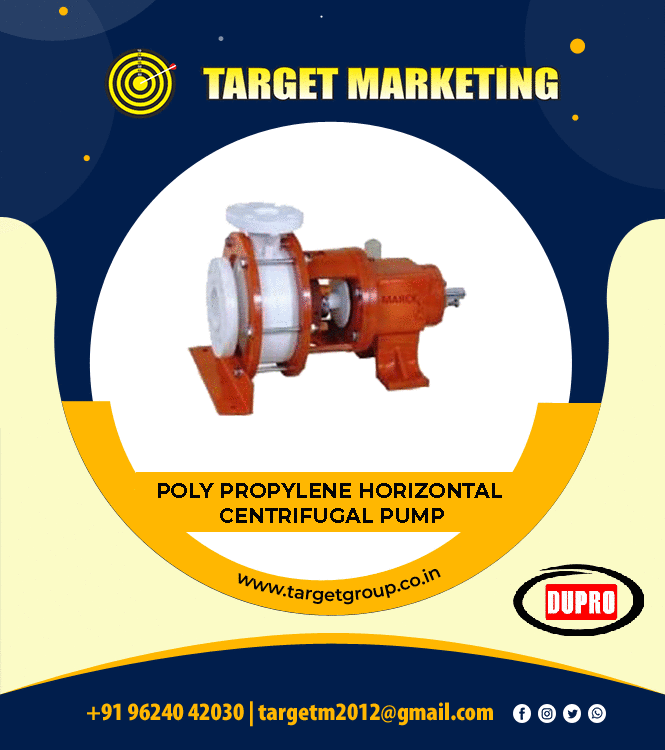 Description
PRINCIPAL OF THE P.P. HORIZONTAL CHEMICAL PROCESS PUMP

The "DUPRO" pump is similar hydraulic design to any conventional centrifugal pump. Standard dimension process pumps with mechanical Seal/ Gland packing arrangement covering all of the chemical industries. These pumps give you unusual protection against corrosive & abrasive

THE SALIENT FEATURES OF P.P. HORIZONTAL CHEMICAL PROCESS PUMP

1. The volute chamber is one piece, heavy, joint less design manufactured from Poly-Propylene a chemically inert thermoplastic by the use of an exclusive moulding process.
2. All the wet-end parts are in solid moulded construction to with stand corrosion and erosion.
3. The impellers are semi-open type hydraulically balanced by back vanes, used in our all pumps to suit both clear & polluted fluids.
4. Distance piece of pumps are made from Poly-Propylene so no corrosion problem can pump leakage.
5. The bearing bracket made from heavy-duty graded casting coated with anti corrosive paint.
6. Reliable fixing of impeller on the shaft by direct thread.
7. Centrifugal quiet, vibration free.
8. The complete pump-rotating element can be withdrawn towards the motor end without disturbing the suction or delivery pipeline, due to back pull out design. The motor remain fixed to base plate. The pump rotating element can easily be dismantled into its component. After reassemble no time consuming Re-Alignment is necessary.
9. You will find maximum dimensional inter-changeability in the design of "DUPRO" Pump.
10. "DUPRO" Pumps requires minimum spare parts and saves you considerable maintenance costs in the long run.

MATERIAL OF CONSTRUCTION AND SPECIFICATION

• CASTING: Top centerline discharge and integrated flanges, single piece, joint less casing formed out of Injection moulded polypropylene.
• IMPELLER: Hydraulically balanced and accurately matched to casing profile, the semi open type impeller with partial shroud and glass finished smooth flow passage ensure high
efficiency low NPSH performance Impeller made from compressor molded U.H.M.W
• SHAFT: The shaft is made from SS 316 protected by shaft sleeve of alloy - 20 or allumina field Teflon or ceramic
• BEARING HOUSING: Made from heavy duty graded casting
• BEARING: SKF ball bearing.
• MECHSEAL: Rotary part of seal is made from glass field Teflon & stationary part of seal is made from high alumina field ceramic.
• DISTENCE PIECE: Heavy-duty one-piece injection molded polypropylene.